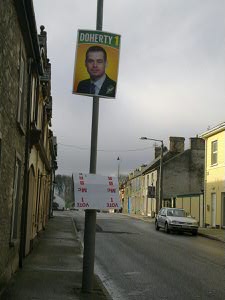 There's Pearse Doherty on top of a pole, he's also on top of the Paddy Power commissioned Red C Poll of how voters intend to vote in the by-election next week.  The poll conducted amongst over 500 voters (+/- 4.4%)  showed that Doherty would poll 40% of first preferences, with O'Domhnaill following in second with 19% with  Barry O'Neill on 15 per cent and  Frank McBrearty on 14 per cent.  Independents Thomas Pringle polled 8% and Anne Sweeney 2%.
Doherty does well on the transfer front from all candidates which would guarantee his election.  The poll also found that  voters thought that Labour Party leader Eamon Gilmore would make the best Taoiseach after the next general election.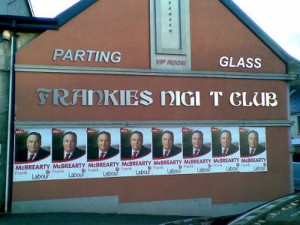 More photos arriving into the hen house, this is Frank McBrearty's family business in Raphoe, the pub is called the Parting Glass – it seems to have a VIP room. Well it definitely has a VIP wall.   Frank appeared with the other candidates on RTE's Frontline programme on Monday Night. He was quiet enough untill someone questioned why we should be interested in Donegal.
Now Frank seems rather popular on the internet, he may be too busy campaigning to notice but he does have a Fake Twitter Account and that for some is a sign of permanent celebrity.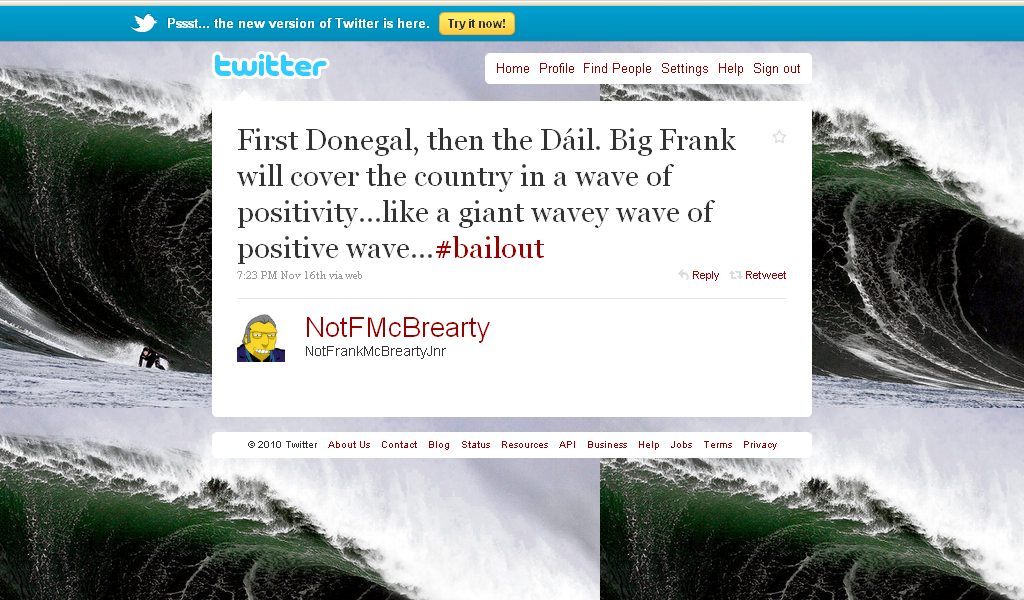 Some people are blogging the bye-election.  Neil Ward, a Labour Party Staff member is working on his first every bye-election. Conor McGarry went up to Donegal to canvass last weekend on behalf of Fianna Fáil and survived and was surprised by the reaction. Wonder how many will be going up next weekend.
Neil came across the first protest posters of the round ups yesterday in Bundoran.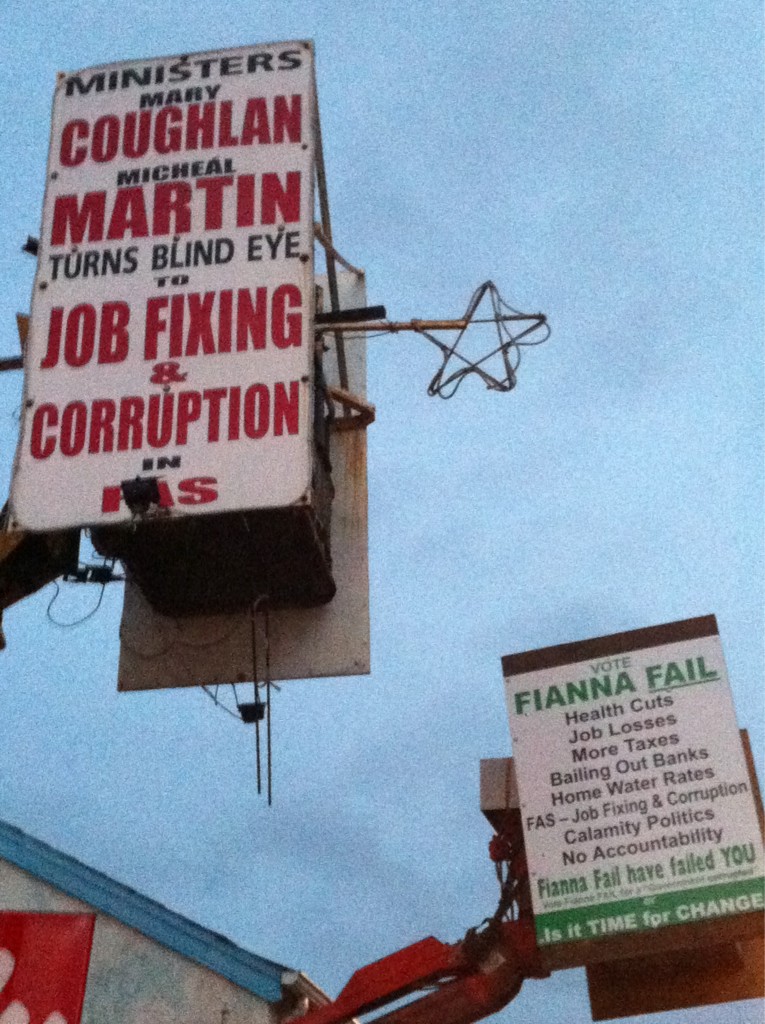 A public information notice for internet candidate Anne Sweeney – Anne some voters want to wish you well and ask you questions – you  may wish to reply to them here.
Finally I said I would like to get all the candidates included poster wise and thanks to J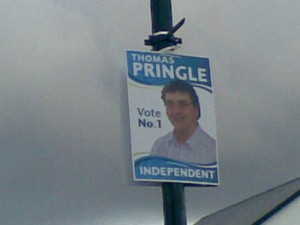 oe I have a picture of a Thomas Pringle poster and so the collection is complete. (Unless Anne Sweeney has changed her mind and there are posters about? )   I believe there are Eamon Gilmore posters in Donegal too as per local and general elections.  Any sign of Brian Cowen up any poles?
As usual pics, news, posts, betting odds are all welcome to tips (@) mamanpoulet.com