I spent the afternoon at the Fine Gael Presidential nomination selection convention where Gay Mitchell MEP won the nomination.   It was a surprise result despite the talk of a Mitchell never losing an election.  Taoiseach Enda Kenny didn't look very happy when the result was announced or at the press conference afterwards.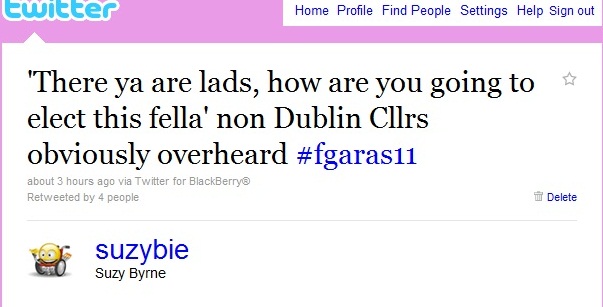 Gay Mitchell will have a difficult job getting the party to work for him outside of Dublin as attested to by a group of councillors I overheard following the announcement.
Some audio I recorded today including a muffled press conference, Enda Kenny's speech to to the convention and the announcement of the result can be heard on audioboo.
The Fine Gael Director of Elections for the Presidential campaign Charlie Flanagan announced the date of the election to be October 21 much to the annoyance of Fianna Fáil and Labour Party activists.  And as for Paddy Power, the odds tonight are as follows:  David Norris 7/4 ; Michael D Higgins 7/4;  Gay Mitchell 5/2;  Sean Gallagher 12/1;  Mary Davis 12/1.