As the voices of accountability and concern are silenced under the fog of austerity, the Labour Party stand silently by.
SAFE Ireland who support the development of services to women and children affected by domestic violence, count and document the numbers using the services and analyse the responses and need, lost their core funding and decided not to compromise themselves either in changing into a corporate/enforcement body for the refuge sector.    They are closing down and won't be replaced.
The reaction of Labour Women.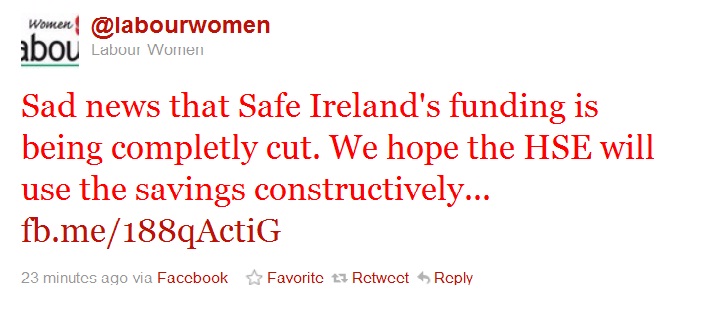 HSE using savings constructively? Surely there has to be more of a response or critique than this?
Assume that you can insert the names of many other organisations into future tweets from Labour Women over the coming months as the HSE, Dept of Justice, Department of Social Protection and others withdraw funding to many womens, community and rights organisations.
Bondholders or improving the response of the state to women affected by domestic violence?
At least Labour Youth opposed University fees and joined the campaign.  Labour Women obviously don't feel as passionate about the sisterhood.   Values? Dim distant memories.
Other organisations are being told of their funding cuts at the moment.  More will be told in the coming weeks.  I may make a list of the fallen – the previous government decimated the community development sector.  Now the rights and policy sector are up next for further possibly fatal cuts.
I don't think groups should be kept open for the sake of it by the way.  I'm quiet happy to see PWDI gone – they were a group who didn't do a lot, didn't represent people properly and cost a lot of money doing it.  The really sad thing is that people with disabilities have no critical analysis or autonomous space as both philanthropical and governmental funding has proved not suitable to support people's voices to be heard.
Update
Labour Women have commented to say that their tweet was not fully indicative of their response and that it was their facebook comment that was tweeted.