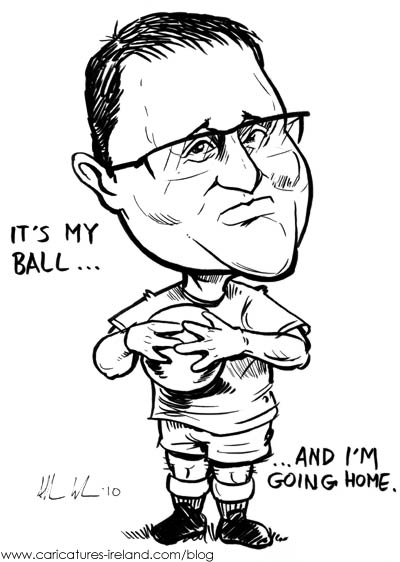 No use spending ages talking about himself. Thanks to Caricatures Ireland for the best thing that sums it up! (And any rumour that my thoughts turned to by-elections and coverage is probably very true. But I know I'm not alone there.)
I was going to post this week about the move over 10 days ago by Enda Kenny to email all party members every Friday updating them about his weeks work. Helpful FG members have been sending me copies! Last Friday's was all about trips to Brussels for meetings and to visit windmills and talking about emigration.
Now the urgent rush to email make a lot more sense since Enda knew that the resignation was coming for a while. On top of the reported apologies over his recent media performances Enda needs all the friends he can get.
Only this morning before George's departure, Fine Gael's media team were uploading a new video of Enda talking to them about his plans for 2010. We are in the second week in February.
Do you think the plans have changed?  He's lying low in Mayo today.