It wouldn't be an election if there wasn't one of those round ups I was told.
So voila – the latest online from the Donegal South West By-Election. This one is also assisted by a pile of local newspapers I receive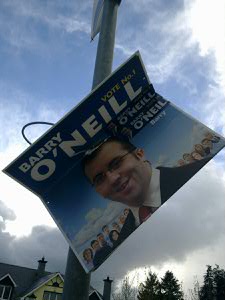 d yesterday evening  from the Rooster who went up home for the weekend.  There are also some poster pics for atmosphere.  Now there's none of Brian O'Domhnaill (FF)  because in the town of Convoy there wasn't one to be found.  Plenty of Pearse (SF) , a few of Frank's (Lab) and two crumpled Barry (FG) ones was the poster report I received.
Also visiting Donegal this weekend were hordes of canvassers who have never headed that far north west before.  I'm hearing of people flying in from Brussels for FF, 90 Fine Gaelers including Senators Jerry Buttimer and Paschal Donohue and next weekend Labour Youth are sending up a busload after this weekend seeing a crew of TD's accompanying Frank McBrearty and Eamon Gilmore on a tour of the constituency on Saturday.
If nothing else this by-election is contributing money to the local economy from all the canvassing tourists (we won't mention for the moment the cost of defending the High Court case and the decision to send it to the Supreme Court for appeal).
The offices
Pearse Doherty seems to believe in the power of post-its. See the video for his views on the first days of the campaign.  ( You can also see Pearse here in conversation with the candidate for Louth oops I mean party President, ex MLA and MP).
Now the other thing that's interesting about Pearse Doherty and Sinn Féin is the mention of him reaching out to the protestant vote in the county in Donegal News published on Friday. However closer reading of the piece is that their reporter was in Raphoe with Pearse on a canvass and a protestant voter (singular) said that he'd vote for him. These things are important in Donegal it seems – the religion of the voter.
Conor  has a picture of the O'Domhnaill HQ – lots of posters ins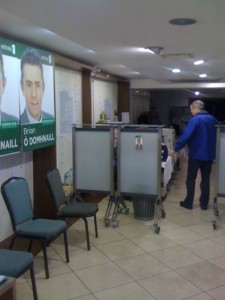 ide, none in Convoy so I heard. I hear that the eyes are something special.
Speaking of religion,  all those canvassers in Donegal yesterday got to go to hang outside Mass yesterday, even Alan Shatter TD who was up canvassing for Barry O'Neill. (Alan is Jewish, the Labour crew were probably not regular mass goers either).
Anne Sweeney (Ind – New Island Party) does not have posters or leaflets as her's is an internet campaign. Among her latest video's is one with her opinions on spoiling one's votes – she's agin it helpfully enough for herself anyway.
Very little online or otherwise about Thomas Pringle, the independent Cllr and former SF member who is also running in this by-election.  Cllr Pringle who works for Donegal County Council was not happy at being left out of the Tonight with Vincent Browne debate last week but he and Anne Sweeney may get another bite of the cherry this week as Vincent promised access for all candidates.
Up to date odds on the candidates can be found here from Paddy Power, but at time of writing they stood like this.
Pearse Doherty 4/9
Brian O'Domhnaill (FF) 13/8
Barry O'Neill (FG) 9/1
Frank McBrearty Jr. (Lab) 10/1
Thomas Pringle (Ind) 33/1
Anne Sweeney 33/1
Green Candidate 150/1
Donegal On Sunday (yes they have their own sunday papers in Donegal) brings us this photograph (picL Thomas Gallagher)  of An Taoiseach jumping puddles with his candidate in Bundoran on Friday.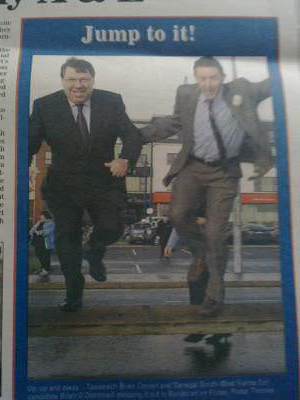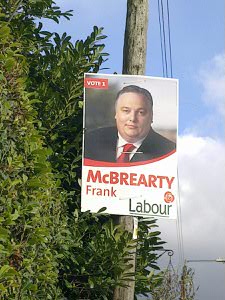 Finally it has not gone unnoticed that Frank McBrearty spends a lot of time talking about Frank McBrearty when he's on the radio (and not trying to interupt the others).  There are reports of various tunes coming fromthe Frank Mobile which is seen throughout the constituency including Tracy Chapman's 'Talking about a Revolution' and Kealan Flynn amongst others report that another favourite soundtrack is 'You'll Never Walk Alone'.
The fabulous Irish Election Literature Blog is looking for election leaflets.  The first example they have is Brian O'Domhnaill – look there's those eyes!
All news, pictures, videos and tidbits are very welcome to tips @ mamanpoulet.com –