The parties are getting their houses in order or maybe in a spin – news from Fine Gael.  Warning!  US based election guru's are on the Irish horizon.  Visiting Ireland recently was founder and CEO of Electionmall.com and former candidate for the Republican Party, Ravi Singh.
Singh has been travelling Europe recently and advising members of the European Peoples Party which of course include Fine Gael. Ravi has been hired by EPP with a view to advising on the 2014 European Parliament Elections and he's talking to Fine Gael with #GE11 looming quickly.  ElectionMall has been around for a while but recently got some Microsoft juice.
In partnership with Microsoft, Election Mall recently launched a product called "Campaign Cloud," which allows candidates to create a Website, create and store a list of supporters, map out their districts, manage campaign events and import fundraising widgets that make managing funds and donors simple and easy.
Now where have we heard all that before?
Ravi helpfully tweeted a pict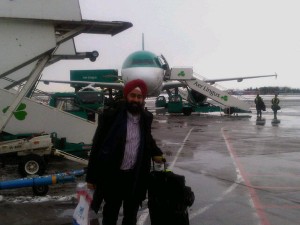 ure of himself in Dublin at the beginning of the month during a recent visit.
I'm really looking forward to seeing all this Fine Gael online engagement and voter management!
Maybe they can hold a briefing on the subject for those of us interested in online engagement and election management?
Talking of engagement I heard that over the weekend Amarach Research were  polling for Fine Gael (phone research) asking people what they think of election slogans like 'End the Crisis' or  'Get Ireland Working'. Thrilling eh?