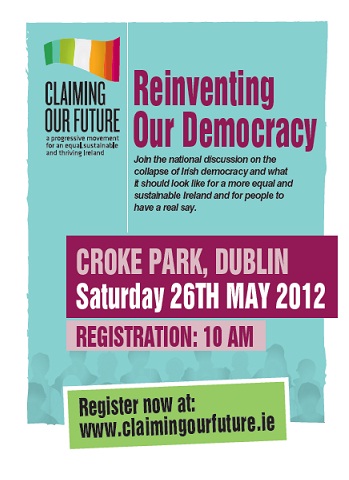 Claiming Our Future are holding a major public event on Saturday 26 May in Croke Park on democratic and political reform.  The movment is about alternatives and has organised events in the past twelve months on income inequality and sustainable development and economics. This time the debates will centre on local government and the way power and decision making  is structured in Ireland, how people can be more involved in decisions that affect their lives and the constitutional convention and how it should be organised and what it should be talking about.
The event is free and open to everyone and you do not have to be a member of any group or organisation to attend. Discussions are held in small facilitated groups throughout the day interspersed with short videos and inputs which are intended to initiate discussion.  There are short documents on the issues which can be read before people take part. You can register here.
Mary Murphy from Claiming Our Future gives a preview.