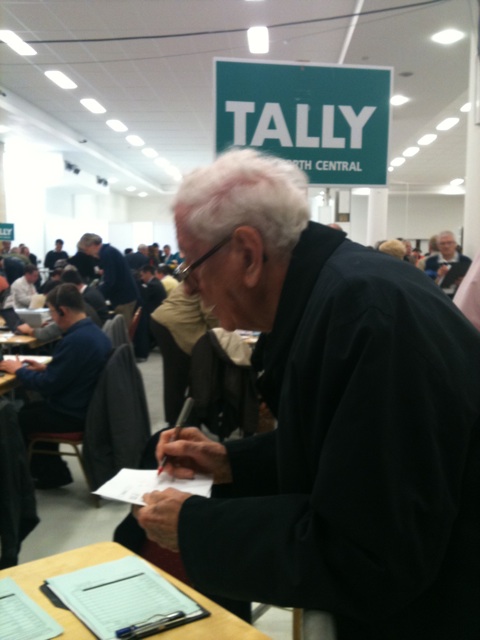 Garret Fitzgerald tallying in February. (pic taken by Yvonne Judge)
I remember being at counts in the RDS over the last twenty years and being stunned by his presence there with his clipboard adding up the numbers. Later he'd be on the radio into the small hours analysing away, an election must.  See Alexia for her Garrett story and videos from Lisbon 2.
This year I was in studio when he arrived and Norin Hegarty has recalled what happened when he wanted a computer to see what was going on with counts. I met Garret first when I was 25, an 'activist' and we were both on a panel for a Plaid Cymru summer school which was held in Dublin.  (No I don't know how I ended up on the panel either).  We were there there to talk about social issues in Ireland.  I was the angry young feminist dyke and Garrett was the former Taoiseach who tried to reform divorce laws and modernise Ireland.   He tolerated me and I was enthralled bylistening to  him. It was 1995 before divorce, equality legislation and after the X case.
He was a crusader and we have not had many since like him in their wish to reform or in their understanding  of social justice from the blue side of the Dáil – yes he got it wrong on the shoes and was played into a corner by the Pro Life movement but he supported women's participation in politics and not just by lip service and wanted widespread constitutional reform.
Garret's successors do not have such a cross party admiration or legacy of public service and contribution to public debate after their time in office and I doubt any other will be mourned as widely or as deeply.