Áine Travers, a Y Factor Project Steering Group member writes about the exciting project emerging via the National Womens Council of Ireland?
 There are many things that we young women want for ourselves, and for one another. Some of us have got futures mapped out; others leap head-first into the unknown. The coming years look bright, and sometimes frightening. Possibilities are ripe and inviting; promises of new adventures beckon.
Sometimes though, things are not quite right for us still. Sometimes, in the midst of the melee, and the hustle to find our way, we are left searching for the words to pinpoint what is out of sync. And sometimes, when we do find them, we are made to feel silly and hysterical for it. Irish women have it good, we are told; you have got nothing to complain about.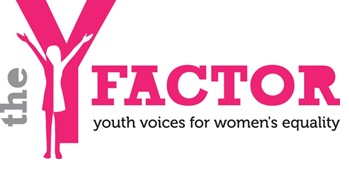 But sometimes, this is not our experience, and we still find ourselves limited; confined by projections of who we are or should be; what we should do or want; whom we should love; how we should act.
Feminism has a lot to do with choices, and women's right to make their own. It opposes the denial of choice to women in all its guises. It thwarts efforts to make us feel less capable, less worthy, less dependable-on. It categorically rejects misogyny and stereotypes, wherever they may appear, and anything or anyone that tries to tell us that we are not enough. It tells us that we should never be afraid to stand up and discuss the issues that are important to us, and that no-one has the right to tell us that these are not legitimate.
Some try to place the blame on women and girls for the inequalities that still exist. "Women are their own worst enemy," they say. But in the Y Factor, we know this could not be further from the truth. We are not enemies; we are friends and allies, and it is for these reasons that the project came into being.
The Y Factor is an initiative for young people to work together towards equality for women, and a project of the National Women's Council of Ireland. 'Youth voices for women's equality' is our by-line, reminding us that our voices being young, does not mean that our thoughts are less valid. Our opinions matter, and we have come together to support one another in expressing them, to find the words to talk about things that we may not have found the space to talk about before.
We claim our input into discussions which directly concern our lives and futures. We demand respect for our diversity. We say no to the commodification of our sexuality. Together we reject pressures to act in certain ways, present ourselves in certain ways, use our bodies to certain ends.
The energy generated by the project in the women involved so far is invigorating. There is real appetite for what we represent. Young women are once again realising in greater numbers that it will not do to leave our fate resting in the hands of those who do not trouble themselves to seek out our perspectives or value our experiences. We must take our futures into our own hands, and find support and solidarity with one another to take charge and find our own way. We, all of us women and girls, can't and won't stand for others telling us what we should think and feel about things that affect our lives.
But we embrace the possibilities of what we can achieve when we come together, realising our potential side by side. We embrace the brilliance brimming over in each and every young woman. This space is ours, to make of it what we want. If you are a young woman with energy to share, we are waiting for you to join the movement. The Y Factor is for you, and wants you to be involved in any way that you can. We are only just getting started here, on what already promises to be quite the adventure; we hope you won't be missing out.
If you'd like to know more about the Y Factor, you can contact the Y Factor Team by phoning 01-878 7248 or emailing elvaoc@nwci.ie or lauram@nwci.ie.  You can also find us on Facebook or follow us on Twitter and, in the New Year, visit our new website.