I've been keeping a list of twitter accounts established by candidates in the General Election. It's interesting to watch campaigns take shape and candidates find their feet online. Some use it to react to voters and national election/political issues, others talk about the feelings/opinions of voters that they are experiencing on the canvass.
Many FG TD's and candidates have established accounts in the last ten days. Fine Gael HQ themselves have an account – @FineGaelToday.
This afternoon that account tweeted a statement about Enda Kenny's visit to Brussels this evening.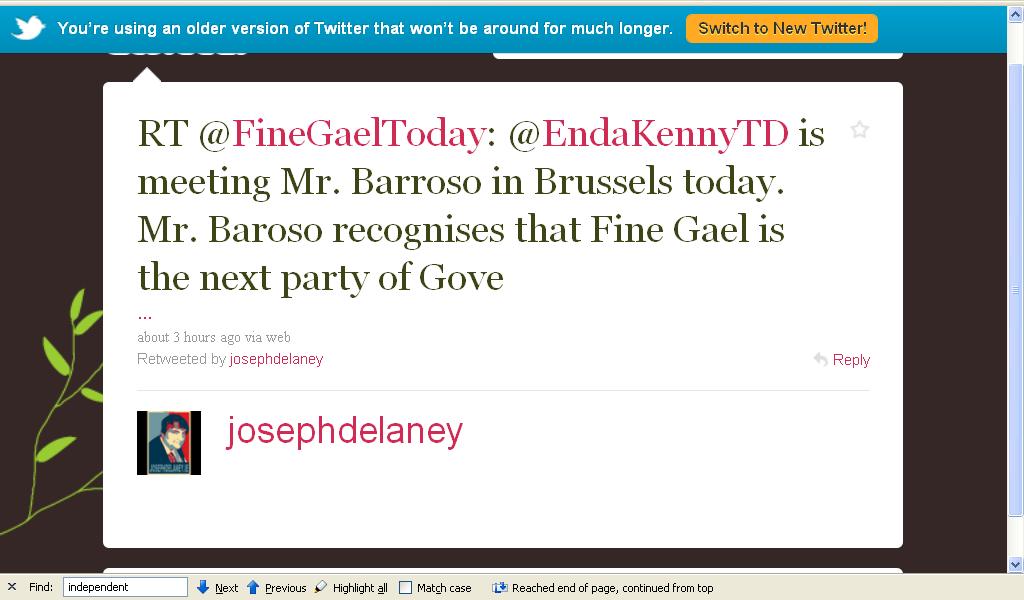 It was quickly deleted – that's a retweet that I caught and can't be deleted by the original sender.  'Mr. Barroso recognises Fine Gael is the next party of Government'.  Confident eh?
Shortly afterwards (14.15) a stream of repetitive tweets came from a number of TD's at the same time. Unfortunately the tweets would not be read by many – ie.  A tweet coming from Brian Hayes which starts @EndaKennyTD means that only those subscribed to Enda Kenny's account would be able to see it. Maybe it was a misguided attempt to get Enda Kenny trending on twitter. Sigh.
It's very clear that these tweets were centrally sent from someone using tweetdeck.
Someone obviously realised the lack of impact of this initial tweet from multiple TD's so the exercise was repeated at about 5pm  after Enda met with Mr. Barrosso. Instantly the same tweet came from candidates accounts – all using tweetdeck to do so.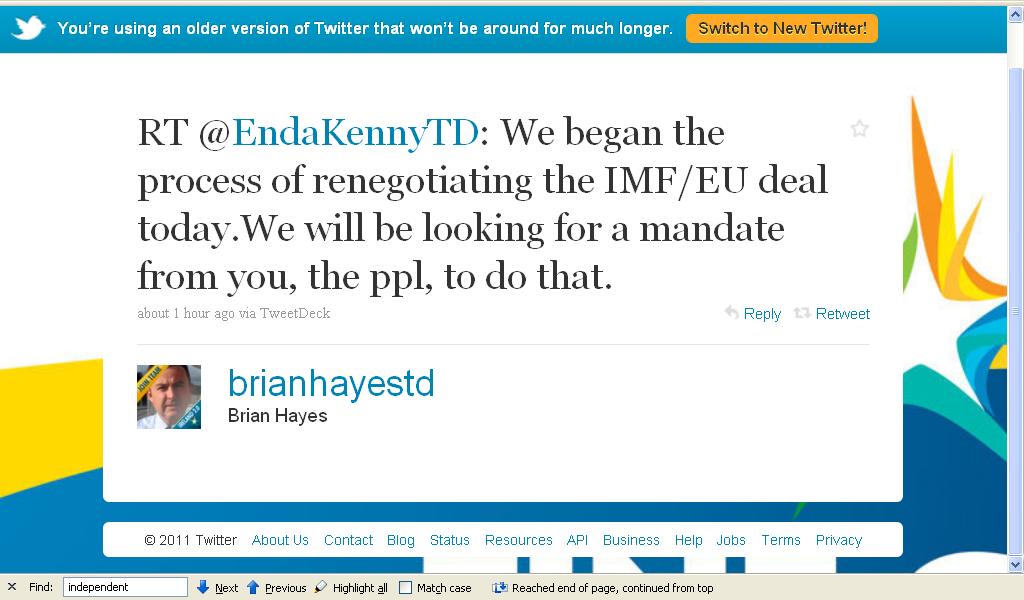 Candidates who hand over control of their personal accounts to someone else are silly, parties who take control of their candidates accounts give the impression of a)having no faith in their candidates or b) having no clue or c)complete paranoia of message control.
There's no problem with candidates sending that message themselves throughout the day – repeating the message of the day with their own twist on it maybe – in their own voice. I saw that many of the Labour candidates for example tweeting the 50 days message ten days ago with some putting their own touch on it and it was clear that they were doing it themselves.
Yesterday morning I saw Enda Kenny give a speech about trust at  Edelman's launch of their Trust Barometer research. Ironically that speech centred on the siege of Leningrad.
The use of social media in elections is about engaging with electorate and creating trust. If candidates can't be trusted to operate their own twitter accounts and speak their own mind how can we trust them in government?