Happy New Year all.  I didn't think I'd be joining you this soon with a bit of a story but our politicians fail to disappoint on the silly stakes.
Senator Fidelma Healy-Eames was recently selected to contest the General Election for Fine Gael in Galway West.  Her twitter account is a stream of consciousness with little engagement.
Last week she was tweeting about the lack of water and difficulties that were facing her constituents.
However tonight she blamed RTE on the wrong kind of weather forecast and it's impact on hoteliers in Conamara (her spelling!).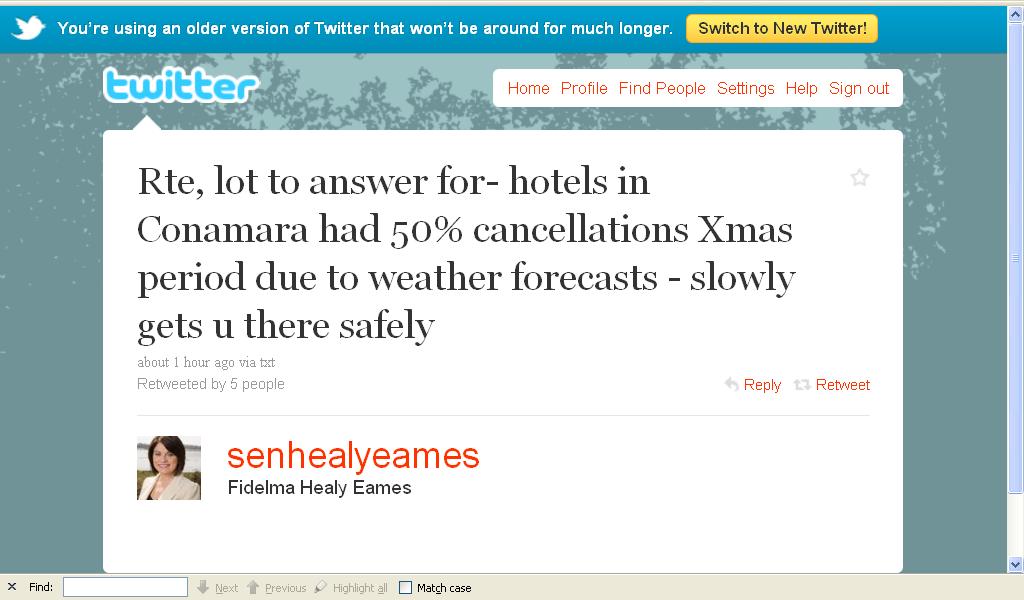 This despite the fact that it's the Met Service who do the forecasting, and that the Garda Siochana and AA Roadwatch and the Governmental Interagency Emergency Committee were all telling people not to travel unless it was essential.
Christmas was not as usual this year for most and indeed so many lost water supplies after it and were staying at home to look out for burst pipes etc.   But let the facts not get in the way of a good story for the local papers and a chance for a Senator to slag off RTE.  (It's a hobby horse of many Senators by the way – in fact if it were not for RTE either by way of fodder for questions or reasons to slag off they would have little to speak about on the Seanad order of business.)
Now of course the Senator has some coverage of what she has said – let's hope those constituents without water and the many who could not leave their houses due to the ice for days will let her know what they think.
Update:
There's more – it seems the Senator's hypothesis regarding it being  RTE's fault is based on her information that foreigners made it to the hotels and the Irish cancelled.  Ergo the Irish are stupid for not driving cautiously or failing to disregard the advice of the Gardai, NRA, and other safety agencies.
Miriam Lord referred to the Senator two weeks ago as Fidelma Really Screams a few weeks ago. Tonight on twitter the mention is being made of Ireland's Palin.