Some think I'm unfair or obsessed with the subject so with the resumption of the new Fine Gael social media strategy I waited 24 hours to comment and watched many of the rest of Ireland on the internet dissolve into a mixture of mirth and disbelief.
How lucky are we!!! For free you can download and print this poster for your window or your wall. There are facebook, twitter and mobile phone versions too!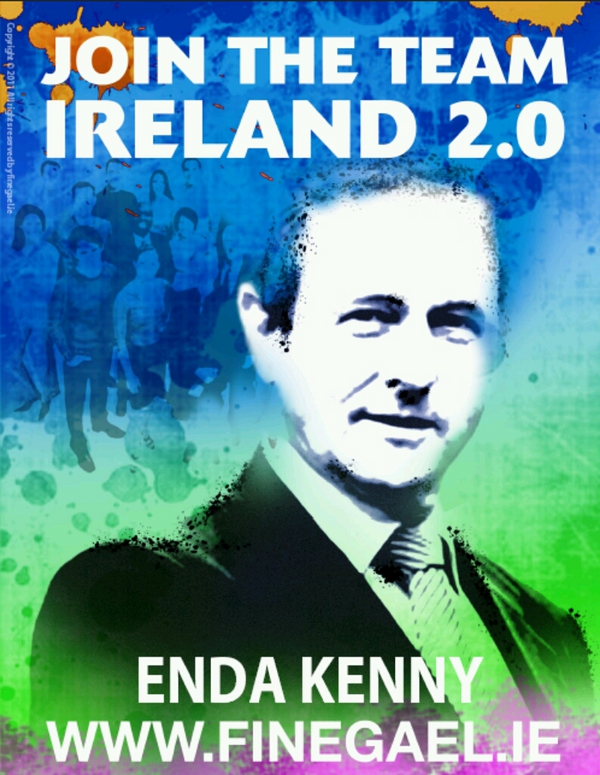 There has got to be focus group research somewhere that indicates that Enda worship is going to go down well or else Ravi and co. are scripting this off their own election plan hymn sheet? Or is Ravi still working for FG after hack gate?
I hear there are new communication types working in HQ and of course Enda told us himself on the Six One News the other day about the 40 new technology people in HQ who are learning all about this stuff. I've christened them the blueshirt hamsters.
There's a new video from Enda of course. It was recorded before the 'incident' but the relevance of the message remains the same.
More Obama bingo being played here if you have not noticed.  I have an Obama poster up on my wall for the past two years, the idea did not come from the Democratic party but from an artist (who has since disowned Obama!)  So it's not the same thing to create the hype yourself and especially not psychedelically.  I'll give it 24 hours before FG release figures about their 'viral' poster.
There is a school of thought in Mount Street that all this craziness and being hacked and resulting coverage is a good thing.  There are other schools of thought too and I'm sure you can add your thoughts below or elsewhere online.
Update:  In a further demonstration of how these things work (and FG don't really get it) – can I direct you to the Enda Poster Generator.   You may wish to come back here after your session of art therapy and leave a link to your creation in the comments.  A gallery has been opened on Boards.ie