"Tourism Ireland has always strived to be at the cutting edge of e-marketing and we have worked hard to strengthen our social media presence."
So says Vera Stedman, Tourism Ireland's deputy head of Great Britain, when she accepted the award for Best Use of Social Media' category at the UK travel industry's Travolution awards in London last month. Tourism Ireland have won a number of awards to date.
To be fair in Ireland we know very little of the online campaigns that Tourism Ireland are using abroad to sell Ireland. Their Facebook page gets huge traffic and they have people 'listening' in to conversations on line to butt in (politely no doubt) and sell Ireland.  And they have won loads of awards for the stuff they do online.
It might be worth keeping a closer eye on as tonight I checked my spam folder and found an email via the Guardian mailing lists (I'm on a few and no doubt have let them sell my email to partners). It was titled Out of Office: I'm on holiday in Ireland – I clicked for a look.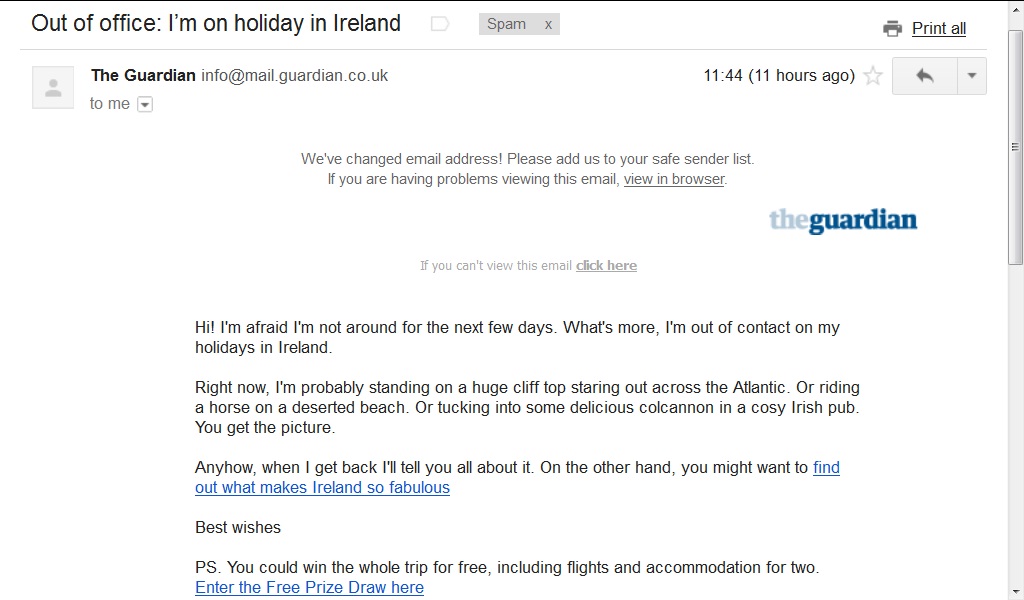 Now I'm wondering how much the social media guru charged Tourism Ireland (and us as tax payers) for a stupid pretendy unsigned email to land in my spam box. They should have sent one from Jedward – it would have probably got hordes of people over for a visit.
Fail.
Update
Tourism Ireland have been in touch with a response.
This particular email campaign was devised to inspire people around Britain to imagine themselves on a holiday or short break in Ireland and used peoples' names to try and put them in that position. Email marketing is such a crowded space and we are always trying out new ideas to achieve some kind of 'standout', particularly in GB, where – as you can imagine – it is incredibly competitive. Really sorry this email ended up in your spam filter; occasionally, despite our best efforts, an email can get trapped by spam filters. Overall, this particular campaign has delivered good clickthru rates for us in GB, with a good level of engagement to date (so far, almost 11,000 people have clicked through to enter the competition).