Late last month World Boxing Welterweight Champion Floyd Mayweather was convicted of domestic violence assault charges and sentenced to serve a 90 day jail sentence.
Last week he managed to get that sentence deferred until June so that he could defend his world title. (An economic boost to Las Vegas being a primary reason offered!)
It's farcial enough that those who licence boxing fights are allowing a convicted man fight under one of their sanctioned events, and a further embarrassment that its someone who has a history of domestic violence.
Yesterday Mayweather issued taunts to his potential opponent to agree to the fight and then you get figures like Rory McIlroy issuing responses like this.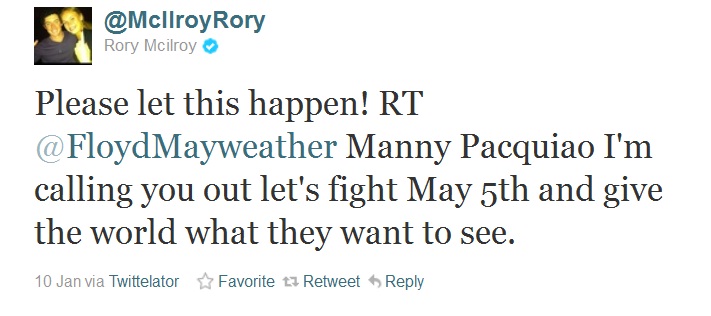 Sports news bulletins have been feasting on the taunts/tweet all day but not a word of concern of how bad an example it is to have someone convicted of hitting a woman and children defer a sentence so that he can fight in a bout.
The head of world boxing has had a dose of the Sepp Blatters about it all.  Jose Sulaiman has said that he is in Mayweathers corner.
I have a feeling that Katie Taylor would not be happy about any of it.
Argentinian middleweight Sergio Martinez though has campaigned against domestic violence and today said that he would dedicate his fight on March 17 against Irish boxer Matthew Macklin to women affected by it.
There is some hope maybe in a sport riven by corruption, cable networks and dodgy deals. Rory McIlory might learn something from it before he starts backing someone who batters women.